Local SEO Strategy For Targeting Multiple Cities
To establish a local business online, you must focus your site on local search. After all, that's what Google wants, right? But what if you want to target a city other than where your business is? That's where things get a little trickier. That's what this blog is all about. It's a rundown on effective local SEO tactics for targeting multiple location SEO.
If you have more than one city in mind to target, the standard one-city strategy doesn't cut it anymore. You need to develop a local SEO strategy for targeting multiple cities. Local SEO is a specific SEO strategy that has changed and evolved over the last few years. Nowadays, it's a highly sought-after skill and can help a local business generate the kind of leads and boost it needs to grow its revenue.
Local SEO is essential to any business's online marketing strategy, especially for those with multi location SEO. In today's digital age, customers increasingly use search engines to find local businesses, making it crucial for companies to be easily discoverable in the cities they serve. A well-executed regional SEO strategy can help businesses reach their target audience, increase brand awareness, and drive more sales.
This blog will delve into the specifics of targeting multiple cities with a local SEO strategy. We will cover the critical steps involved, from researching keywords to monitoring results, and provide practical tips and recommendations for businesses looking to improve their local search engine rankings. Whether you are a small business with one location or a large enterprise with multiple location based SEO, this guide will provide valuable insights into optimizing your local SEO efforts to reach more customers in the cities you serve.
Let us highlight the points we will be discussing in this blog
What Is Local SEO?
Local SEO is optimizing a website for Google search results in a specific geographic area. This can be done by optimization of website content for local keywords, building citations from local directories, and creating geo-targeted pages on the website.
Local SEO is essential for small businesses that want to be found in Google search results for their local area. Optimizing their website for local keywords and building citations can increase their chances of being found by potential customers. For instance, if you're a local business in San Francisco and someone searches for [San Francisco dentist] on Google, they want your website to appear. But if you're the best dentist in Livermore, you also want to appear in that search.
Why Is Local SEO Important?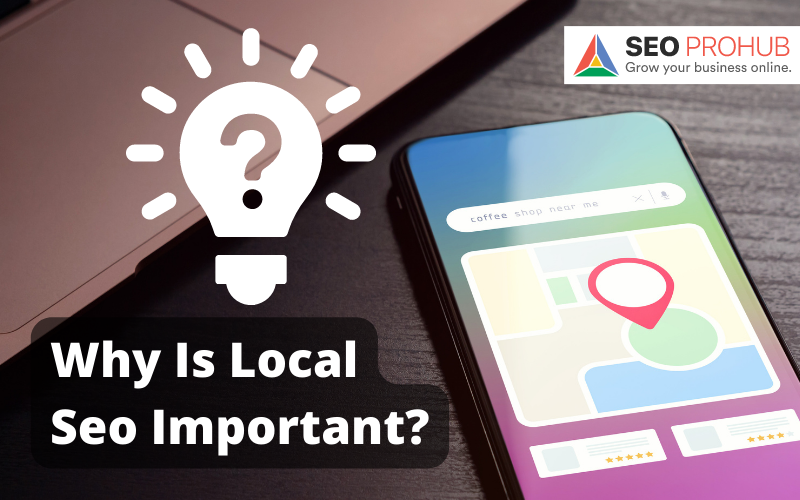 Local SEO helps businesses rank higher in search results for location-based queries, leading to increased visibility and foot traffic to the physical store, more calls and online actions, and improved customer experience. Local SEO is vital for businesses with a physical location as it helps them reach potential customers in their area.
It involves optimizing the website and online presence for keywords related to the location and services offered. This increases the business's visibility in search engine results pages (SERPs) for searches made by users in the local area. As a result, the business is more likely to receive foot traffic, phone calls, and online interactions from local consumers. This can lead to increased sales and a better customer experience.
Furthermore, with the rise of voice search and mobile devices, local SEO is becoming even more essential as users are increasingly looking for local information on the go. By investing in local SEO, businesses can build their brand reputation, establish trust, and strengthen customer relationships in their community.
What Are The Benefits Of Local SEO?
Local SEO has many benefits for businesses with a physical location.
Increased Visibility: Firstly, it helps increase visibility in search engine results pages (SERPs) for location-based searches. This means that when someone in the local area searches for products or services your business offers, it is more likely to appear at the top of the search results, which can drive more traffic to your website and physical location.
Increased Brand Awareness: Additionally, local SEO can help to build brand awareness and establish trust with customers in the local community. This is achieved by providing accurate and consistent information about your business across the web, such as your address, phone number, and business hours. This information helps to establish credibility and legitimacy, making it more straightforward for customers to find and connect with your business.
You may like to read more: 7 Local SEO Tips For Your Moving Company
Customer Experience: Another essential benefit of local SEO is that it can help to improve the customer experience. By appearing higher in search results, your business is more likely to attract the correct type of customer actively searching for products or services in your area. This can lead to enhanced engagement and conversions, as customers are likelier to take action when they find a relevant and trustworthy local business.
Bringing Traffic: Furthermore, local SEO can help to drive mobile traffic to your website, which is becoming increasingly important as more and more consumers use their mobile devices to search for local information. Optimizing your website for mobile devices can ensure that your business is accessible and easily discoverable for potential customers on the go.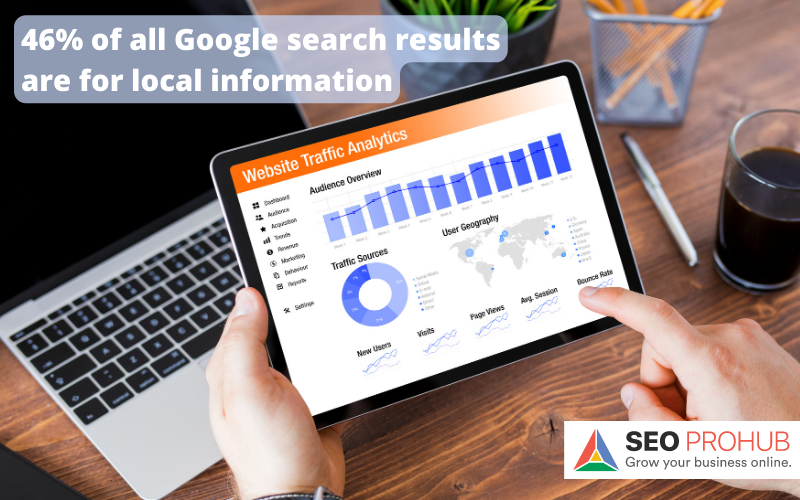 Enhance Local Marketing Outcomes: Utilizing Google's local SEO features can enhance your marketing efforts and improve results. Google provides location-based information, such as an interactive map with detailed information about your business, including address, hours of operation, and more.
This information can also be used by new customers to find your location using the "Street View" feature. For instance, when someone searches "Starbucks near me" on Google, they will see a map displaying nearby outlets with links to their websites and directions to their location.
Bring in local clients: SEO for several locations can bring more local clients close to your business. Go Gulf, a website design firm, estimates that 46% of all Google search results are for local information. Additionally, 72% of shoppers who used a local search visited a retailer five miles from where they were.
These figures demonstrate the benefits of using a multi-location SEO strategy for business. The local businesses specializing in a particular good or service are displayed in the search results when clients look for a nearby company offering it.
How To Target Multiple Cities With Local SEO?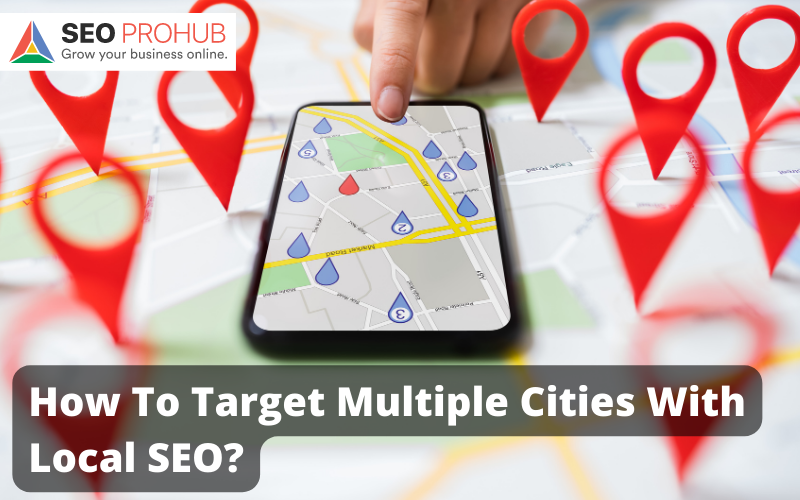 There are several ways that you can go about targeting SEO for multiple locations with your local SEO strategy. The first is to create separate pages for each city you're targeting on your website. Ensure to include relevant city keywords in the page title, Meta tags, and content. You can also list your business on local directories and map sites for each city.
Another option is to create a single page for your business that includes content SEO strategy for multiple locations and cities. Again, include relevant city keywords in the page title, Meta tags, and content. You can also use geo-targeted keywords to target multiple cities. For example, if you're a plumber in Los Angeles, you could use the keyword "plumber Los Angeles" to target people searching for a plumber in that city.
You may like to read more about Content Strategy: How SEO and Content Marketing Work Together
Make sure that your website is appropriately optimized for each individual city. This means including the city name in your website's titles, tags, and other vital places. You should also make sure to create unique content for each city. This can be done by blog writing or articles specific to each city.
In optimizing your website, you must also ensure you are active on social media and directory listings. This will help ensure that your website is seen by potential customers in multiple cities. You should also submit your website to local directories and business listings. This will help to increase your visibility and reach local SEO for multiple locations.
Finally, don't forget about offline marketing efforts. Make sure your business is listed in relevant print directories and that your marketing materials (including business cards and flyers) list your multiple locations. These steps ensure your local SEO strategy is as effective as possible.
Steps To Follow Local SEO For Multiple Cities
Targeting multiple cities with local SEO requires a strategic and comprehensive approach. Here are some steps to consider. These steps continually refine your strategy. You can effectively target multiple cities with local SEO and improve your online visibility and reach:
Research Keywords: Start by researching keywords related to your business and the cities you want to target. Make a list of relevant keywords and include them in your website content and metadata.

Claim Google Business Profile Listings: Ensure you have claimed your Google Business Profile listings for each city you want to target. Fill out your business information accurately, including your business name, address, phone number, and hours of operation.

Optimize Website Content: Optimize your website content for each city you want to target. Use city-specific keywords, mention each city in your page titles and meta descriptions, and create unique pages for each city if possible.
To optimize website content for local SEO, follow these steps:
Include local keywords: Use keywords relevant to your business and target city in your website content, such as business name, address, and city.
NAP Consistency: Ensure your Name, Address, and Phone number (NAP) is consistent across the website, Google My Business, and other directories.
Google My Business: Verify and optimize your Google My Business listing with accurate information, categories, photos, and reviews.
Local Content: Create location-based pages or blog posts to showcase your service area and highlight your expertise in the local market.
User Reviews: Encourage customers to leave reviews on Google, Yelp, and other relevant directories to improve online reputation and credibility.
Backlinks: Acquire high-quality backlinks from local websites, directories, and organizations.
Mobile Optimization: Ensure your website is mobile-friendly and provides a positive user experience for users on the go.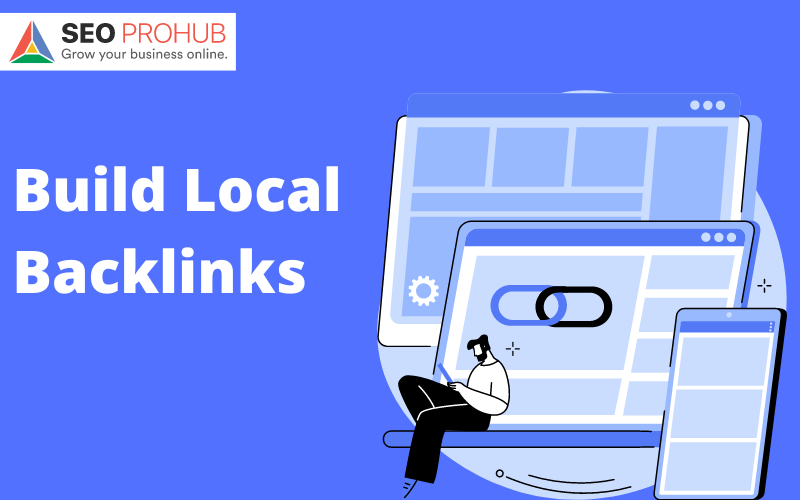 4. Build Local Backlinks: Build backlinks from relevant local websites, such as chamber of commerce, tourist boards, and local directories. Link Building will help improve the credibility and relevance of your website in the eyes of search engines.
By building high-quality local backlinks, you can improve your website's authority and visibility in local search results, attract more local customers and grow your business. Here are some strategies to help you acquire high-quality local backlinks:
Local directories: Submit your business to local directories such as Google My Business, Yelp, and Chamber of Commerce.
Local partners: Reach out to local businesses, organizations, and events to form partnerships and get a link to your website.
Community involvement: Participate in local events, volunteer work, and sponsor local organizations to build relationships and earn backlinks.
Guest posting: Reach out to local blogs and websites to offer guest posts and include a link to your website.
Local citations: Get listed on local citation websites such as Yellow Pages, Superpages, and MapQuest.
Local media: Secure media coverage and mentions in local news outlets and websites to earn valuable backlinks.
Testimonials: Ask satisfied customers to provide testimonials and link to your website.
5. Use Local Schema Markup: Implement local schema markup on your website, a type of code that provides search engines with information about your business, including your address and phone number.
6. Monitor Results: Regularly monitor your search engine rankings, website traffic, and online reviews to evaluate the effectiveness of your local SEO efforts and make improvements where necessary.
How To Rank In Multiple Cities?
Following these tips can optimize your website for multiple cities and reach a wider audience.
If you're running a business that has multiple locations or serves customers in multiple cities, then you need to ensure your local SEO strategy is up to snuff. Fortunately, you can take some simple steps to ensure you're effectively targeting multiple cities.
First, ensure your website is optimized for each city you're targeting. This means creating unique pages for each location with relevant content and keywords. You should also ensure your NAP (name, address, and phone number) is consistent across all your listings, both on your website and directory sites.
In addition, you need to make sure you're active on the local directory and review sites for each city. Claim and fill out your profiles on these sites, and encourage customers to leave reviews. This will help boost your visibility in local search results.
In this blog, we've looked at some of the top tactics you should use to properly optimize your website for local search engines. While local SEO can be tricky, it's certainly not impossible. You'll find some good advice here if you're looking for a few starting points for your local SEO strategy.
In conclusion, targeting multiple cities with a local SEO strategy is crucial for businesses looking to reach the target audience and drive more sales. By following a comprehensive approach that includes researching keywords, claiming Google My Business listings, optimizing website content, building local backlinks, using local schema markup, and regularly monitoring results, businesses can improve their online visibility and reach in multiple cities.
Struggling with Creating Competitive Strategy? SEO Pro Hub is here to guide you. Get in touch with our SEO Experts and make strong impact in market.
The key to a successful local SEO strategy is continuously evaluating and refining your approach, staying up-to-date with the latest best practices and algorithm updates. With the right strategy and persistence, businesses can improve their search engine rankings, attract more local customers, and ultimately grow their business. In short, a local SEO strategy is a must-have for businesses looking to reach new customers in multiple cities and establish a robust online presence.