7 SEO Tips For Your Moving Company To Boost Your Google Rankings
When customers do a Google search for moving companies, they're likely going to contact the first few results and make their comparisons. If your site isn't among these top-performing ones then you are missing out on sales opportunities! This is what SEO means– it's important that you rank well in this ranking process so your company can be seen by potential consumers when looking online for reliable service providers like you.
In this article, we will discuss seven simple tips that will help your moving company's website rank higher in the search engine results pages. By following these tips, you can attract more website visitors and boost your business.
We hope you continue reading to learn more about how to improve your SEO plan. If you have any questions, please don't hesitate to call us at 925-396-5813 so that we can help address them!
1. Create Your Website User-Friendly
Creating a user-friendly website is important for two reasons: first, it helps improve your search engine optimization (SEO), and second, it creates a better experience for your visitors. When it comes to SEO, Google and other search engines are looking for websites that are easy to use and navigate. If your website is difficult to use, Google is likely to rank it lower in the search results.
One very important ranking factor in SEO is your page speed. Google wants to give its users the best experience possible, and that means returning results quickly. If your website takes too long to load, Google will likely rank it lower than a website with similar content that loads faster.
People increasingly use their phones to find moving companies. In fact, 60% of searches take place on mobile devices. That means your website needs to be mobile-friendly. If it's not, you're likely to lose potential customers who will go to a competitor's site that is mobile-friendly.
Remember, the goal of your website is to attract users and convert them into customers or clients. A user-friendly design is essential to achieving that goal.
2. Choose Your Keywords
The words and phrases people use to find your business online are called keywords. It's important that the keywords you choose are closely related to what people are actually searching for.
When it comes to keywords, how do you ensure you're choosing the right ones?
Short-tail vs. Long-tail Keywords
The first step is to understand the difference between short-tail and long-tail keywords. Short-tail keywords are general, one- or two-word phrases that are highly competitive. Long-tail keywords, on the other hand, are more specific, three- or four-word phrases that are less competitive. For example, "moving company" is a short-tail keyword, while "local moving company in Seattle" is a long-tail keyword.
To choose the right keywords for your business, start by identifying your target audience. What are their needs and fears? What are they searching for online? Once you have a good understanding of your audience, you can begin to research keywords that will help them find your website.
There are a number of tools available to help you with keyword research, including Google AdWords Keyword Planner and Moz Keyword Explorer. Once you've identified a few potential keywords, test them out by doing a search on Google and see how many results come up. The higher the number of results, the more competitive the keyword is. You should also take into account how relevant the keyword is to your business. A keyword like "cheap moving services" may have high search volume, but if your moving company specializes in high-end moves, it's probably not going to be a good fit.
Once you've selected a few good keywords, incorporate them into your website and blog content in a natural way. Don't stuff your content with keywords; instead, use them in a way that makes sense and flows smoothly. In addition to using keywords throughout your website content, be sure to include them in your page titles and metatags. This will help to ensure that your website appears in search results when people are searching for businesses like yours.
Read More: Beware! Keyword Cannibalization Might Eat Up Your SEO Efforts
Top 35 Best SEO Keywords for Moving Companies
| | | | |
| --- | --- | --- | --- |
| S.No | Keyword | Avg. Monthly Searches | Competition |
| 1 | moving companies | 301,000 | Medium |
| 2 | movers near me | 201,000 | High |
| 3 | movers | 201,000 | Medium |
| 4 | moving companies near me | 165,000 | High |
| 5 | moving services | 40,500 | Medium |
| 6 | long distance moving companies | 22,200 | High |
| 7 | cheap movers near me | 18,100 | High |
| 8 | furniture movers | 18,100 | Medium |
| 9 | local movers | 18,100 | Medium |
| 10 | mobile home movers near me | 18,100 | Low |
| 11 | local movers near me | 14,800 | High |
| 12 | mobile home movers | 14,800 | Low |
| 13 | long distance movers | 12,100 | High |
| 14 | local moving companies | 12,100 | Medium |
| 15 | furniture movers near me | 12,100 | High |
| 16 | moving help near me | 9,900 | High |
| 17 | house movers | 9,900 | Medium |
| 18 | cross country movers | 8,100 | High |
| 19 | best moving companies | 8,100 | High |
| 20 | moving and storage companies | 8,100 | High |
| 21 | moving services near me | 8,100 | High |
| 22 | cheap moving companies | 8,100 | High |
| 23 | cross country moving companies | 8,100 | High |
| 24 | cross country moving companies | 6,600 | High |
| 25 | professional movers | 6,600 | Medium |
| 26 | cheap movers | 5,400 | High |
| 27 | pool table movers near me | 5,400 | Medium |
| 28 | local moving companies near me | 5,400 | High |
| 29 | hire movers | 5,400 | High |
| 30 | house movers near me | 4,400 | Medium |
| 31 | affordable movers | 4,400 | High |
| 32 | best long distance moving companies | 4,400 | High |
| 33 | International moving companies | 2,400 | High |
| 34 | international movers | 1,900 | Medium |
| 35 | moving van hire | 90 | High |
3. Write Quality Content
It's no secret that quality content is important for a website to rank well in search engines. But after Google's recent "helpful content" update, it's become even more important to create unique and helpful content if you want your website to be successful.
The helpful content update is all about Google favoring websites that provide useful, relevant information to users. So, if you want your website to rank well, you need to make sure you're creating content that people will actually find helpful.
Fortunately, creating helpful content isn't as difficult as it may sound. Just take some time to think about what your target audience is looking for and then craft articles, blog posts, or other pieces of content that address those needs. As long as you're providing value to your readers, you should see an improvement in your search engine rankings.
Read More: How to Optimize Your Content for People and Search Engines
4. On-Page SEO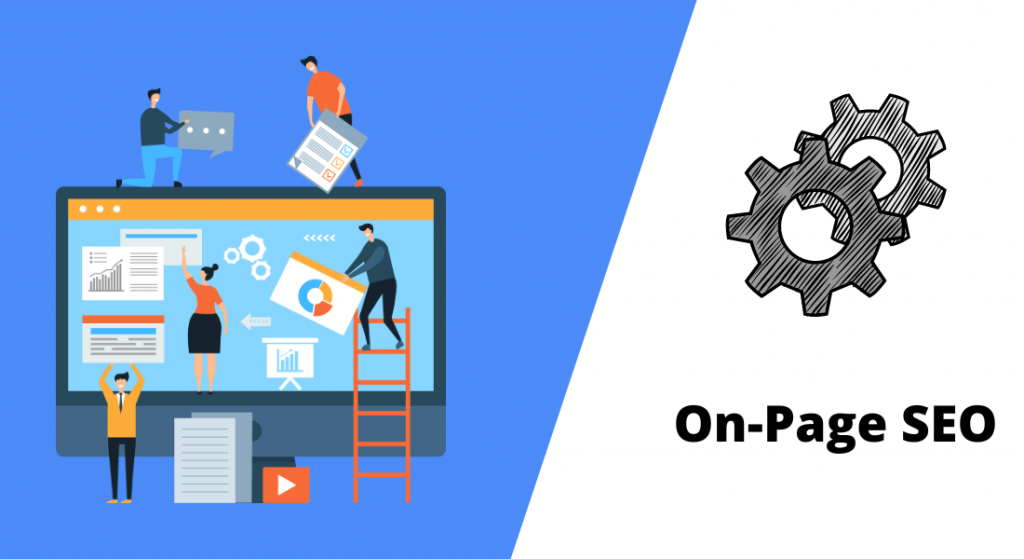 There are various factors that search engines take into account when assessing ranking. In addition to having quality content and an appealing website design, you need to optimize title tags, internal links, URLs, and more for SEO purposes.
Download our comprehensive guide on On-Page SEO Checklist to improve your website step-by-step. For those unfamiliar, on-page optimization is the process of making a webpage more visible and relevant to search engines. Here is a quick summary of the various elements you need to consider for optimized webpages:
1. Title Tags
Title tags are one of the most important on-page elements for your website. A title tag is the text that appears in the search engine results page (SERP) when your website comes up for a particular query. The title tag should be relevant to the page content and include relevant keywords.
2. Meta Descriptions
Meta descriptions are short snippets of text that appear below the title tag in the SERP. Meta descriptions are not a ranking factor, but they are important for click-through rate (CTR). A well-written meta description can encourage users to click on your listing, which can lead to more traffic to your website.
3. Headings
Headings are used to structure your content and make it easy for users to scan and find the information they are looking for. There are six heading levels (H1-H6), with H1 being the most important. Your H1 should include your main keyword, while H2-H6 can be used to further structure your content and include secondary keywords.
4. Images
Images are an important part of any web page as they can help break up text and make your content more visually appealing. When adding images to your pages, be sure to include relevant keywords in the file name and alt text. Alt text is the text that appears when an image does not load or when a user is using a screen reader.
5. Internal Links
Internal links are links from one page on your website to another page on your website. Internal links help users navigate your website and can also help search engines crawl and index your pages. When adding internal links, be sure to use relevant anchor text (the text that is linked).
6. External Links
External links are links from your website to another website. External links can help improve your website's SEO by showing search engines that your site is authoritative and trustworthy. When adding external links, be sure to link to high-quality websites that are relevant to your site's content.
7. Page Speed
Page speed is the amount of time it takes for a web page to load. Page speed is important for both users and search engines as it can affect both CTR and SEO. There are a number of factors that can affect page speed, including file size, server response time, and code efficiency.
8 . Mobile Friendliness
Mobile friendliness is another important factor for both users and search engines. Mobile friendliness refers to how well a website displays on mobile devices such as smartphones and tablets
It is difficult to "make it big" on Google if you do not follow their guidelines. Unfortunately, these standards are always in flux, which can make sustained success seem unattainable. Fortunately, our team of moving companies SEO experts can help lighten the load by handling all on-page optimization for you and keeping you apprised of any necessary changes along the way.
Are you struggling to keep up with the latest trends? Book a free consultation call today for expert guidance.
5. Build up backlinks
Although on-page SEO is more within your realm of control, off-page SEO provides understanding about what others think of your business. However, this doesn't mean you're powerless in regards to off-page SEO. There are many things you can do external to your website to help build a good reputation and gain backlinks, such as:
1. Directory Listings
Directory listings are the most important off-page element for SEO. Directory listings are online directories that list businesses in specific categories. These listings can help to improve a website's search engine ranking and can also provide potential customers with information about a business, such as its address, phone number, and hours of operation.
2. Guest Blogging
Guest blogging is another effective off-page SEO strategy. Guest blogging involves writing articles for other websites in exchange for a link back to your own website. This strategy can help to improve your website's search engine ranking and can also increase traffic to your website.
Read More: How SEO and Content Marketing Work Together to Boost up Your Branding
3. Forum Posting
Forum posting is another great way to build links to your website and improve your website's search engine ranking. When you post on forums, you should include a link back to your website in your signature. This will help people who are interested in what you have to say to find your website easily. Additionally, forum posting can also help to increase traffic to your website as people click on the links in your signature to visit your site.
4. Question and Answer Sites
Question and answer sites, such as Quora and Reddit, are a great way to build links to your website and increase traffic. When you answer questions on these sites, be sure to include a link back to your website in your answer so that people who are interested in what you have to say can easily find your site
5. Social Media
Social media is also important off-page elements for SEO. Social media signals, such as likes, shares, and comments, can help to improve a website's search engine ranking. Additionally, social media can be used to build relationships with potential and current customers, which can lead to increased traffic and sales.
6. Claim Your Google Business Profile Listing
Google Business Profile is a free tool that can help you reach more customers. Don't miss out on this chance to grow your business!
If someone searches online for a service or product in a close location, these location business listings are at the top of the searches and prove to be a perfect tip for SEO for your moving company.
According to studies, 78% of mobile searches using location services have resulted in an offline purchase. Business listings play a significant role in this process. If you do not have a local listing on Google here is how you can create one.
First, go to the Google Business Profile website and sign in with your Google account. If you don't have a Google account, you can create one for free. Once you're logged in, click on the "Add your business to Google" button.
Next, enter your business name and choose your business category. Then, enter your location information. You'll need to enter at least your street address, but you can also include additional information such as your suite number or cross streets.
Once you've entered your location information, you'll be asked to verify your listing. Google will send a postcard with a verification code to the address you provided. Once you receive the postcard, simply enter the code on the verification page and your listing will be live!
With our local SEO specialist, you can save hours by having them do local business listing on Google. Not only will they list your business, but they'll also optimize your website to rank high in search engines according to their algorithms.
Schedule a complimentary consultation call with our Local SEO experts by clicking here +1 925-396-5813.
7. Pro Tip: Install Free Moving Calculator
Wondering how a free moving calculator can improve the SEO for your moving company?
SEO can be a complex and time-consuming process. Fortunately, there's a simple way to give your moving company's website a boost in the search engines: by installing a free moving calculator. By including a moving calculator on your website, you'll be able to show potential customers exactly how much their move will cost. This will not only help them to get an accurate estimate of the cost of their move, but it will also instill confidence in your company's ability to provide an efficient and affordable moving service.
In addition, by providing potential customers with an estimate of the cost of their move, you'll be more likely to win their business. So if you're looking for a simple way to improve your moving company's website and generate more leads, be sure to install a free moving calculator.
Conclusion
Moving can be a very stressful time, but with the help of a good SEO plan, you can make the process easier for your customers. By following the tips in this article, you can improve your website's ranking in Google search results pages and attract more visitors. We hope you found it helpful! If you have any questions or would like more information, feel free to schedule a call and speak to our moving marketing experts now at +1 925-396-5813. Thanks for reading!